Sunday, October 26th, 2008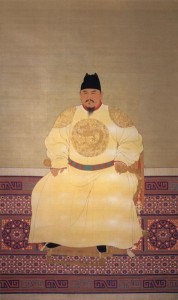 For those of you looking for something to see and someplace to go and you happen to enjoy Asian Art and you happen to live in Indianapolis or St. Louis or within driving distance or EITHER place.   Keep These Dates: Indianapolis Museum of Art (October 26–January 11, 2009); St. Louis Museum of Art (February 22–May 17, 2009).
The most important exhibition of Asian Imperial Art of the Ming Dynasty in many years will be on view.  "Power & Glory: Court Arts of China's Ming Dynasty" organized by Li He, Associate Curator of Chinese Art of the Palace Museum and Michael Knight, Senior Curator of Chinese Art and Deputy Director of Strategic Programs and   Partnerships. The exhibition has on loan stunningly rare items from the Palace Museum (Forbidden City) in Beijing, the Nanjing Municipal Museum, and the Shanghai Museum, Chinas three most important Asian Art Museums.
If you enjoy the Arts of the Ming Dynasty or just plain love Asian Art. Do see this exhibition. If you cannot attend, get the catalog. Well illustrated and really well written.